Create Profile Picture with Ai: How to create Ai Avatars ?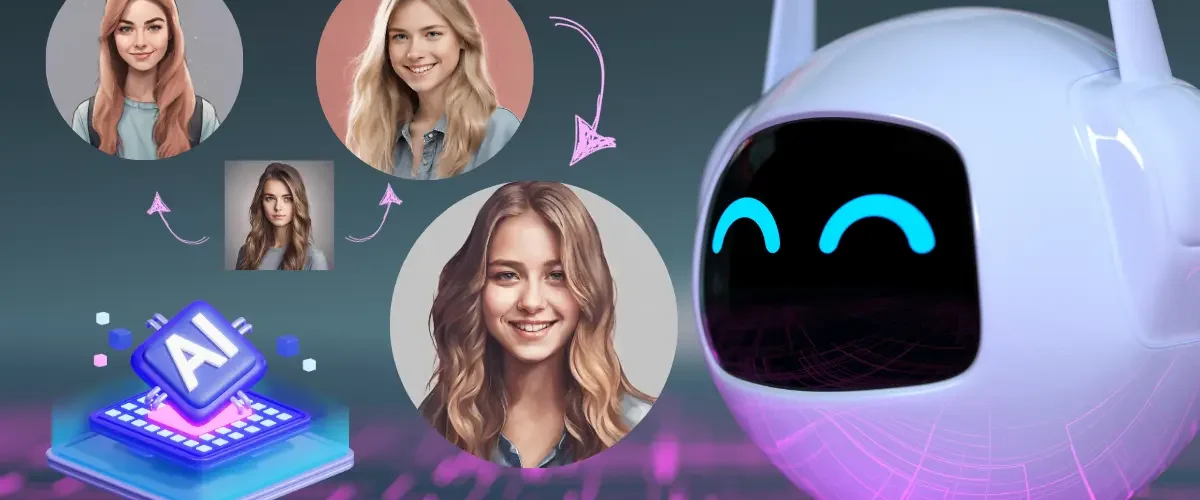 In today's digital age, your profile picture plays a crucial role in making a lasting impression, whether on social media platforms, professional networking sites, or even dating apps. Creating an eye-catching and unique profile picture has never been easier, thanks to the power of artificial intelligence (AI).
In this article, we will guide you through the process on how to create profile picture using AI, ensuring that you leave a memorable mark online.
When it comes to how to create profile picture with AI, there are various approaches and styles to choose from. These options range from transforming your real photo with background changes and artistic filters to generating an entirely new AI avatar that represents you in a unique and imaginative way.
The versatility of AI-powered tools allows you to explore these different avenues and tailor your profile picture to your individual preferences and the platform's context where you intend to use it.
Whether you opt for a striking reinterpretation of your existing photo or decide to embrace the world of AI-generated avatars, the possibilities are as diverse as your creativity allows.
Simple Profile Picture: we'll walk you through a basic but powerful technique to create profile picture with ai. The best part is, it won't cost you a dime.

Profile Picture – Ai avatar

: Transform yourself into an artwork using Ai
Let's dive in and discover how to give your profile picture a fresh and captivating look.
Create profile picture with ai : Simple Profile Picture
Open your web browser and go to any of the sites given below.
pfpmaker.com
picofme.io
profilepicture.ai
Look for an option like "Upload Photo" or "Choose File" on the website's interface. It's usually located prominently on the homepage.

Click on the "Upload Photo" button and select a good-quality photo from your computer or device. Make sure it has a clear face that you'd like to use for your profile picture.

Depending on the website's features, you may have the option to customize your profile picture by adding filters, adjusting the background, or making other enhancements. Follow the on-screen instructions to make the desired edits.

Once you're satisfied with the changes you've made, look for an option to save or download the edited profile picture. Click on this option.

The website will typically provide you with a downloadable link or button to save the image to your computer or device. Click on it to download the edited profile picture.
Please remember to use websites and online tools responsibly and in accordance with their terms of service and privacy policies.
Create profile picture with Ai:

Profile Picture – Ai avatar
AI learns from a variety of your selfies to create these personalized artworks, making them ideal for social media profile pictures.
Open any of the following.
Lensa App (paid) : Create Profile Picture with Ai : Easy compared to leonardo aI
To begin, enable the free trial, which lasts for one week. Remember to cancel the subscription before it charges $50 for the year. You can test the Magic Avatars by clicking the 'try now' button.
 You will see an option called magic avatars.
upload required (10 – 20) clear and well-lit photos with your face clearly visible. Avoid full-body shots, images with obstructions like glasses, and those with multiple people in the frame.
Now you have to pay, the cheapest option is $4.99
The processing of photos typically takes between 20 to 40 minutes
You can then organize avatars into different "Vibes" and save your favorites in 4K resolution
Leonardo Ai (Free) : Create Profile Picture with Ai
Navigating Leonardo.ai is a breeze, and the avatars it generates are impressively detailed and realistic. Users can not only leverage existing models but also create and train their own custom models directly on the website.
To get started, train a custom model with 15-20 images that contain only one person. Adjust parameters such as model name, description, training resolution (usually set to 512×512), and choose a base model. Experiment to find the perfect settings for your desired avatar.
Explore the subtle differences between training times to optimize your results. Select characters from the list to train your model effectively. Ensure you turn off NSFW (not safe for work) to avoid generating inappropriate images.
Once you've submitted your data and started training, Leonardo.ai will notify you via email when your model is ready. If you don't receive a notification, check the job status.
The final step is as simple as clicking "generate" to create your image. The process takes only a few seconds. Once your avatars are generated, choose your favorite image and save it.
Privacy Concerns
While AI-generated art is fascinating, it raises privacy concerns. The Ai tools  has access to your facial data, which should prompt you to read its privacy policy carefully. 
Also consider supporting real artists by commissioning their work.